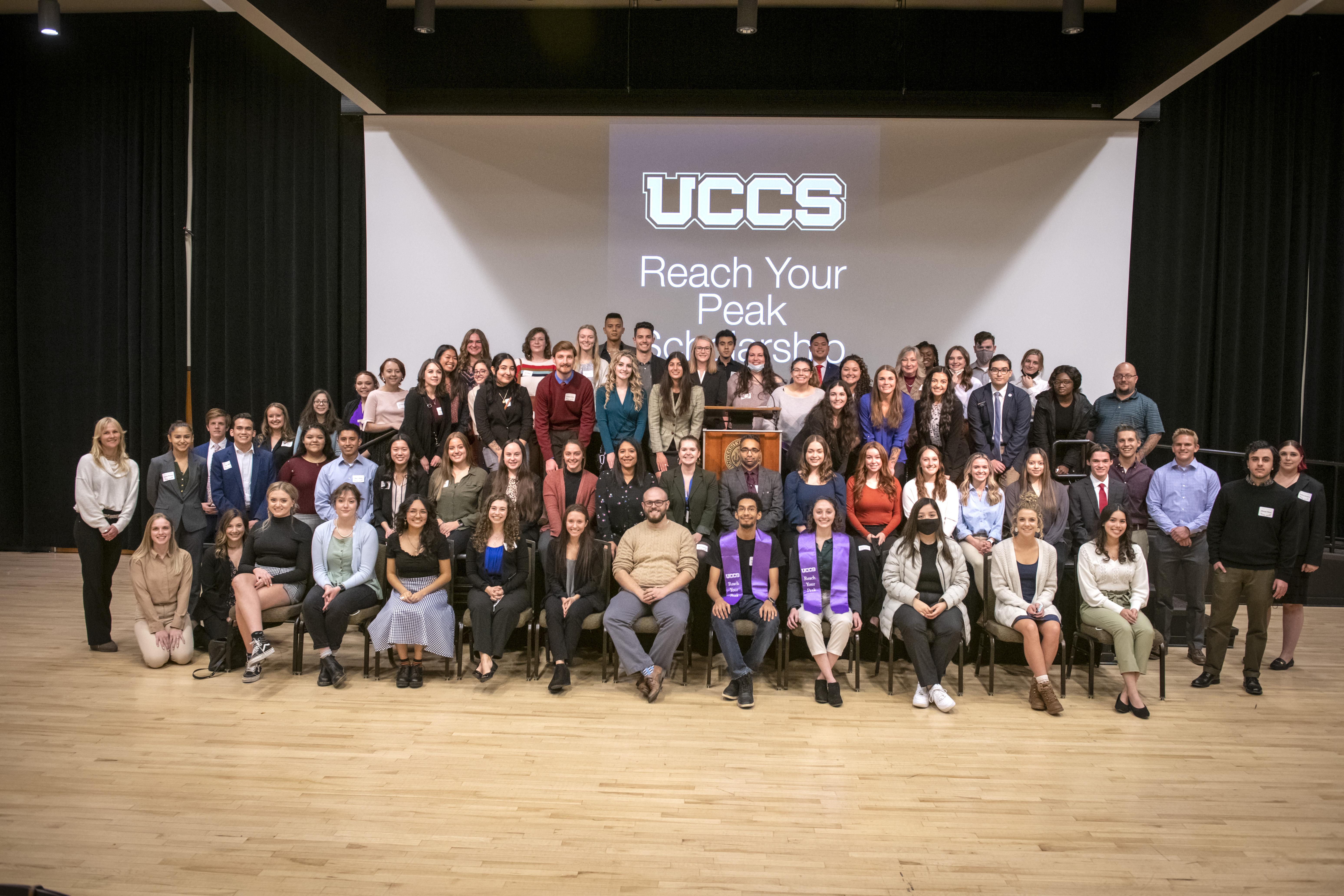 *There are currently 110 Reach Your Peak Scholars....bright stars on our campus and in our community!
Bruce and Anne Shepard Reach Your Peak Scholarship (RYP)
Dedicated to tomorrow's leaders! The Reach Your Peak Scholarship program serves students who are dedicated to their personal success and future. Reach Your Peak Scholars work part-time while maintaining a full class schedule and participating in career enhancing programs annually.
Inspiring Future Economic Growth
The founder of the Reach Your Peak Scholarship Program, Mr. Bruce Shepard, found success in Colorado Springs industry, leading an influential real estate firm and the regional Chamber of Commerce, and co-founding the city's Economic Development Corporation. He knew that to ensure Southern Colorado's continued strength, the region's largest university needed to ease the path to higher education for students who needed financial support, yet fell through the cracks with traditional scholarship programs. So, in 2000, he and his wife, Anne Shepard, established the Reach Your Peak Scholarship Program. More than 100 donors have joined the Shepard's vision, providing personal examples of success to Reach Your Peak scholars.
Mr. Shepard passed away in April of 2015 and Mrs. Shepard passed away in August of 2017. They were both lifelong residents of Colorado Springs and lived a life dedicated to their faith. They felt serving others was their greatest calling and took pride in establishing the Reach Your Peak Scholarship. UCCS and the Reach Your Peak community misses them both greatly.
Meeting an Acute Need in Southern Colorado
UCCS is the perfect home for the Reach Your Peak scholarship program. Though its students boast tremendous untapped potential, 40 percent of them represent the first generation in their family to attend college. UCCS benefits from the diversity and experience of its 11,200 strong student body, the university has a high percentage of Pell-Grant eligible (representing greatest financial need) and self-supporting students who often must develop and maintain a balance between family, work, and school.
Drawing from some of Colorado's neediest counties, UCCS offers a flexible, supportive learning setting that nurtures success among traditional and nontraditional students. Reach Your Peak is a natural offshoot of these ideals and of the high hopes donors have for our future leaders studying within sight of Pikes Peak.
Reach Your Peak Donors and Scholars Form Meaningful Relationships
Reach Your Peak offers $4,000 annual scholarships to incoming full-time undergraduates with Colorado residency, financial need, strong academic potential, stalwart work ethic, and a minimum 2.5 GPA. Scholars must also work at least part time with the intent to help them grow as individuals. This scholarship lightens the burden of outside employment, and enables scholars to direct more time toward their studies. Community partners meet with scholars throughout the year at networking events and required workshops.
Where most scholarships end, Reach Your Peak begins. Along with financial assistance, scholars gain valuable networking skills and form one-on-one relationships with program donors and supporters. Career development workshops are offered to help expose scholars to fresh ideas.
Contact Info:
Tam Doane
University of Colorado Colorado Springs
1420 Austin Bluffs Parkway, Colorado Springs, CO 80918-3733
t: (719) 255-5108